We look forward to seeing you! Please have the following information for us at your first visit:
Previous relevant medical records including vaccine history
Current address, phone numbers, and email
Name of boarding/daycare facility used
Name of food you feed and name of supplements or vitamins given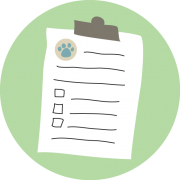 New Patient Information Form (PDF)
Please print and fill out the New Client Information Form and give it to our receptionist when you arrive at our clinic for your first appointment.
Day Admission Form (PDF)
If you are dropping off your pet for an exam, you may save yourself a few minutes by printing and filling out this form at home and giving it to the nurse upon arrival.
Online New Client Form
Please call the clinic to set up an account before filling out a New Client form. Thank you!
Parking
Parking is available on the east side (clinic side) side of Bryant Ave, all of 43th Street, surrounding residential streets, and our parking lot which is accessible by the alley.  Keep in mind that there are only a few available spots in the parking lot, and using the lot means you have to walk around the back of the adjoining building to access our front door.  You can park on the west side of Bryant but please observe the hour restrictions placed by the city for Barton Elementary school buses. Please be courteous of our neighbors and leave ample room for them to pull out of driveways.